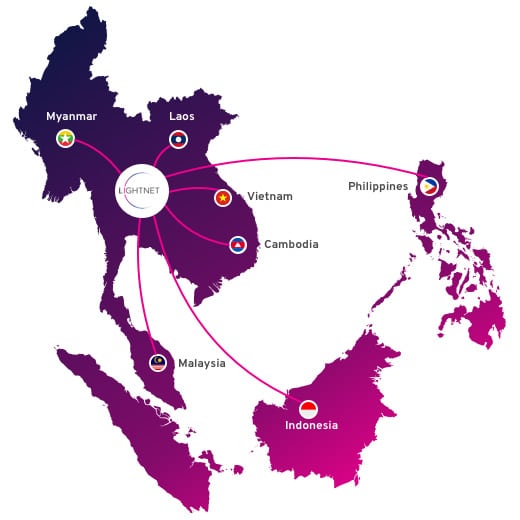 London, 10 June 2020: KogoPAY, the socially conscious mobile payments Fintech start-up, is delighted to announce the signing of a Memorandum of Understanding (MOU), through its holding company Smile Money Ltd, with Lightnet.
Lightnet is a Thailand-based and Singapore headquartered fintech company dedicated to improving the lives of the unbanked and underbanked by building an inclusive international remittance ecosystem that will increase the efficacy of existing money transfer operators, financial institutions and other cross-border payment providers. Lightnet, led by a highly experienced team in Asia and supported by a global board of advisors from the world of technology and finance, is chaired by Chatchaval Jiaravanon – industry figurehead and member of the Charoen Pokphand Group – Thailand's largest conglomerate. Following a US.2 million Series A financing in late January 2020, the company is now backed by six Asian conglomerates, giving Lightnet access to a giant network of banks and retail outlets to support customers. Lightnet's initial focus will be on Southeast Asia remittances, which it estimates to be worth up to US0 billion a year.
KogoPAY is in the process of finalising its mobile payments app which will launch later this year. The app, which will enable fast, free wallet-to-wallet transfers, competitive currency transfers and QR code payment, is also known for its strong social conscience. KogoPAY's plans will include building strong brand awareness among its target customer groups which include the Thai community, travellers to Asia, street vendors, charity collectors, people in education and those without bank accounts ('the unbanked').
The MOU, which involves investment in KogoPAY UAB in return for shared operations in electronic banking will provide both companies with valuable additional resources at an important time in their growth.
Dr Narisa Chauvidul-Aw comments: "It is with great pleasure that I sign this MOU with Lightnet, a highly regarded Fintech company within Asia. Lightnet's operations are very much in alignment with KogoPAY's business model, supporting real time transactions, particularly across borders, and making it easier for the unbanked to manage their money and have access to financial services.
Tridbodi Arunanondchai, Vice Chairman of Lightnet comments: "We are delighted to sign this agreement with KogoPAY, a Fintech with incredible potential. KogoPAY's aspirations to create a versatile new operation are very much in alignment with our technology and we admire the advances that KogoPAY has made within the complex area of electronic banking within Europe." 
About KogoPAY
KogoPAY is a payments app start-up soon to launch in the United Kingdom, Lithuania and Thailand which will offer fast wallet-to-wallet payments, a prepaid Mastercard, QR code payment and low-cost currency transfers. Targeted at the socially conscious, hospitality workers, travellers, street vendors, small businesses, students and charity workers, KogoPAY makes payment on the go simple and affordable. Headquartered in London and with an office in Bangkok, Thailand, KogoPAY will make local and international payments as simple as sending an email.
www.kogopay.com