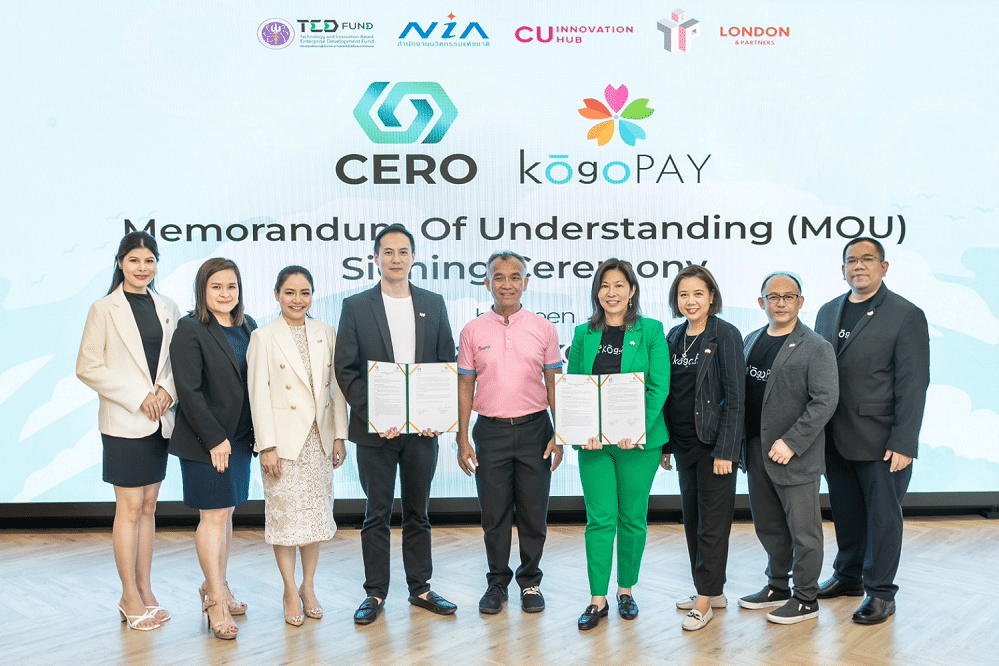 Get paid for going green is the mission statement of green tech company CERO and now fintech firm KogoPAY led by Founder & CEO Dr. Narisa Chauvidul-Aw, has marched onward with its own aims relating to the health of the global environment.
On August 31 Dr. Narisa met with CERO CEO Dr. Sakayong to sign a memorandum of understanding (MOU) at Chulalongkorn University, a university with a reputation for tech research and studies. Both figures have links to the institution, with Dr. Narisa a former lecturer and current guest speaker for graduate students and Dr. Sakayong at present a PhD student there.
The MOU sets out in official terms KogoPAY's collaboration with CERO: users on the KogoPAY app, where a full suite of financial and banking services are available, will be able to earn CERO tokens by making carbon-wise purchases and choosing products which are either environmentally friendly or honest and transparent about offsetting.
The company says this tokenised blockchain system leverages AI to create a wave of environmentally friendly actions through play-to-earn mechanisms.

The MOU ceremony was attended by Ms. Maturos Salayarg Trade and Investment Manager and Ms. Jasika Pongvirat, Trade and Investment Officer at the British Embassy, as well as Prof. Dr. Sanong Ekasit, Deputy Director of the Technopreneurship and Innovation Management Program at Chulalongkorn University.

Dr. Narisa said: "We want to talk big on tech's promise to reshape the world in a planet-friendly manner and see no reason to moderate our ambition.
It's our great pleasure to partner with Dr. Sakayong who we feel shares this outlook and hope to move forward with working to reshape the financial landscape in the UK and Europe.
Beyond financial inclusion, our aim is to commit significant focus and resources to green finance in close collaboration with CERO and infuse sustainability into the core of our financial operations to create a brighter, greener future for all."

As well as offering users the chance to earn CERO, KogoPAY's native digital token can be readily accessed inside its blockchain-enhanced app.
KOGO can be obtained by users when committing to charitable causes: already a pipeline on KogoPAY for helping reduce homelessness is codified into the company's roadmap. Users are encouraged to select a donation category which can be anything from a night in a hostel, a meal, a sleeping bag or even vocational training and education.