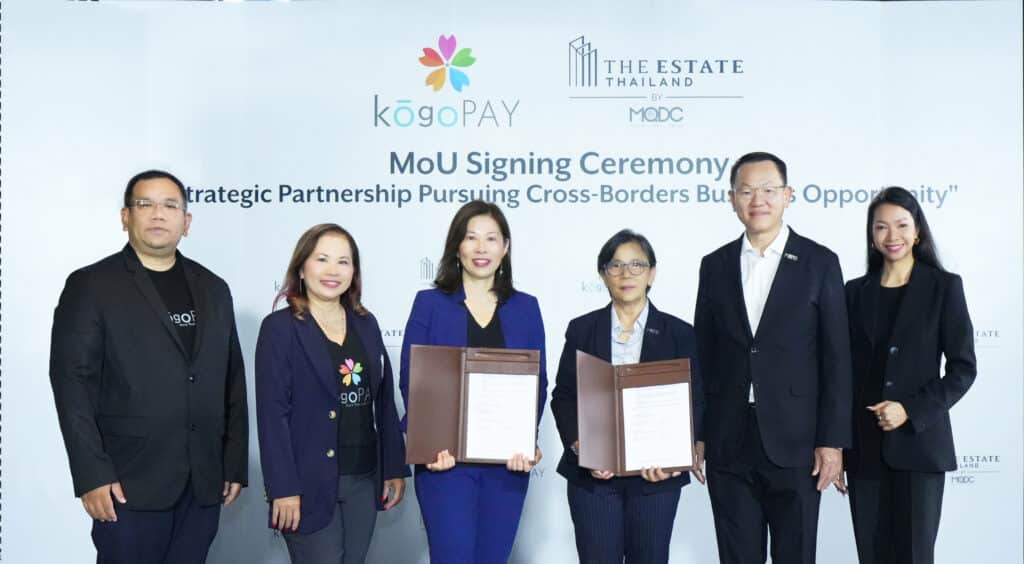 27 March 2023, Bangkok – The Estate (Thailand) part of MQDC and KogoPAY Group, an award-winning fintech company whose offices are in the United Kingdom, Europe and UAE, signed a memorandum of understanding (MoU) to target Thais in locations such as the United Kingdom, the European Union, Switzerland, and the Gulf Cooperation Council (GCC).
The organisation's aim is to invite Thais home, reaching out to expats including the European Union's over 1 million Thai residents. The initiative will open opportunities to invest in real estate in Thailand, particularly for those planning to return home and retire. This new collaboration will see KogoPAY become a payment partner for MQDC. KogoPay will help facilitate payment transactions on behalf of MQDC from customers across the UK, Europe and, in the future, the Middle East. KogoPAY will also co-produce the marketing of various MQDC projects.
The MoU was signed at The Forestias by Dr. Narisa Chauvidul-Aw, CEO & Founder of KogoPAY Group, and Dr. Natenapis Sookbang-Naidoo, President of The Estate (Thailand).

Mr. Keerin Chutumstid, Chief Operating Officer of Business represented MQDC's CEO Mr. Visit Malaisirirat and Ms. Pakawadee Jittiteeranon, SVP, Sales Management, attended for Mr. Assada Kaeokhiao, MQDC's Chief Operating Officer.